9 Reports Every SEO Needs: Introducing Custom Report Templates in Moz Pro
Posted by rachelgooodmanmoore
Reporting is central to our jobs as SEOs and helps us to communicate the value of our work to stakeholders and clients alike. Without good reporting, it can be a challenge to illustrate our success in search. We know how important it is — but it can also be painful and clunky.
Am I the only one who moderately dreads what we might call "reporting season?" The timing of that season might vary — based on who you work for, what a reporting cycle looks like, and other factors — but ultimately it's the time of year when we have to get our ducks in a row and report to our stakeholders: not only on the SEO progress that we've made, but what that progress equates to in terms of real-world implications.
For me, one of the biggest time-black-holes when building reports is the fact that I'm reaching to collect data from disparate sources to paint a full picture of my SEO work. I find myself grabbing screenshots from various tools, pulling them into a template that I've built, and wishing I had a streamlined process for it all … then, repeating the exact same data-wild-goose-chase-and-template-building-acrobatics for each site I track. Ugh.
A solution (which I admit I'm a totally biased fan of) has launched in Moz Pro this week. Within a Campaign's custom reports, we've introduced nine custom report templates to help you report on what matters to your stakeholders. Just select a template and dive into the insights.
These templates are rooted in workflows that are popular within the Moz Pro app. Our team also conducted tons of customer interviews to identify what kinds of templates we needed to build. While you can edit templates to suit your individual needs, they come pre-loaded with descriptive insights and data that stands on its own to tell a story. If you have a Medium-level plan or higher, you've already got instant access to these templates.
Get started with your templates
Use one of Moz's new report templates to pull together the data you need—depending on exactly what your reader needs to know. Choose from one of our nine most popular templates to tell your SEO story. Here's what we've got:
1. Competitive Analysis Overview Report
The Competitive Analysis Overview Report provides a brief overview of how your site compares to your competitors. It highlights competitive metrics like search visibility and compares your site's featured snippets, link profiles, and tracked keywords to your competitors. As an overview report, it will help quickly show stakeholders how your site compares to your competitors.
2. Full Competitive Analysis Report
The Full Competitive Analysis Report gives a complete and thorough view of how your site stacks up against the competition. More in-depth and detailed than the aforementioned overview report, this one is perfect for stakeholders who want to know all the details about your SEO competition. It highlights competitive metrics, as well as in-depth comparisons across links, keyword performance, Domain Authority, and more.
3. Campaign Overview Report
The Campaign Overview Report is perfect to provide to any team members or clients who want exactly that—an overview of your site's Campaign. The report includes a view of your Campaign dashboard, Search Visibility, and a look at site health, link data, and traffic.
4. Link Analysis Report
The Link Analysis Report is ideal to pass along to any stakeholder who is particularly interested in link data. It provides an in-depth look at your own site's links, as well as how your site stacks up against its competitors when it comes to link profiles. This report includes many important link metrics, including discovered & lost links, linking domains, anchor text, Domain Authority, and more.
5. Rankings Analysis Report
The Rankings Analysis Report will be great for anyone who is curious about your site's ranking performance, especially when it comes to top keywords. The report highlights a high-level overview of keyword performance, and then digs in to best- and worst-performing keywords, Search Visibility, traffic, and keyword opportunities.
6. Ranking Opportunities Report
The Ranking Opportunities Report is ideal for the stakeholder in your life who wants to know what the next steps might be for your keyword strategy. This report identifies some of the top keyword opportunities pulled in from Keyword Explorer and your Campaign, based on your site's current performance. By highlighting keywords your site is already ranking for that you aren't tracking, and opportunities to rank for new keywords, this is an easy report to pass along for consideration around future keyword strategy.
7. Full Site Audit Report
The Full Site Audit Report provides a very thorough, in-depth look at your site's health. This report is ideal for any stakeholder or client who wants to know precisely how the site is doing and what outstanding work still needs to be done. Based on your site crawl in Moz Pro, this highlights actionable insights such as new and critical issues, crawler warnings, redirect issues, and metadata/content issues.
8. Quick Site Audit Report
The Quick Site Audit Report is a briefer version of the aforementioned Full Site Audit Report. This report is easily digestible for any stakeholders who just want a high-level view of your site's health and link profile. It highlights top-level crawl metrics, new site crawl issues, and quick link metrics.
9. Search Visibility Report
The Search Visibility Report is ideal for a client or boss who just wants to know the answer to the age-old question: "How visible is my site?" This report provides a quick overview of your Moz Campaign before diving into trending search visibility and a comparison against competitors. Provide a clear answer to the question of how visible your site is with this concise report.
Try custom report templates now!
Feeling ready to jump into year-end reporting? We're looking forward to your feedback. How do the new templates fit into your reporting workflows? Got other ideas on how we can continue to improve your reporting? Please feel free to share in the comments!
Sign up for The Moz Top 10, a semimonthly mailer updating you on the top ten hottest pieces of SEO news, tips, and rad links uncovered by the Moz team. Think of it as your exclusive digest of stuff you don't have time to hunt down but want to read!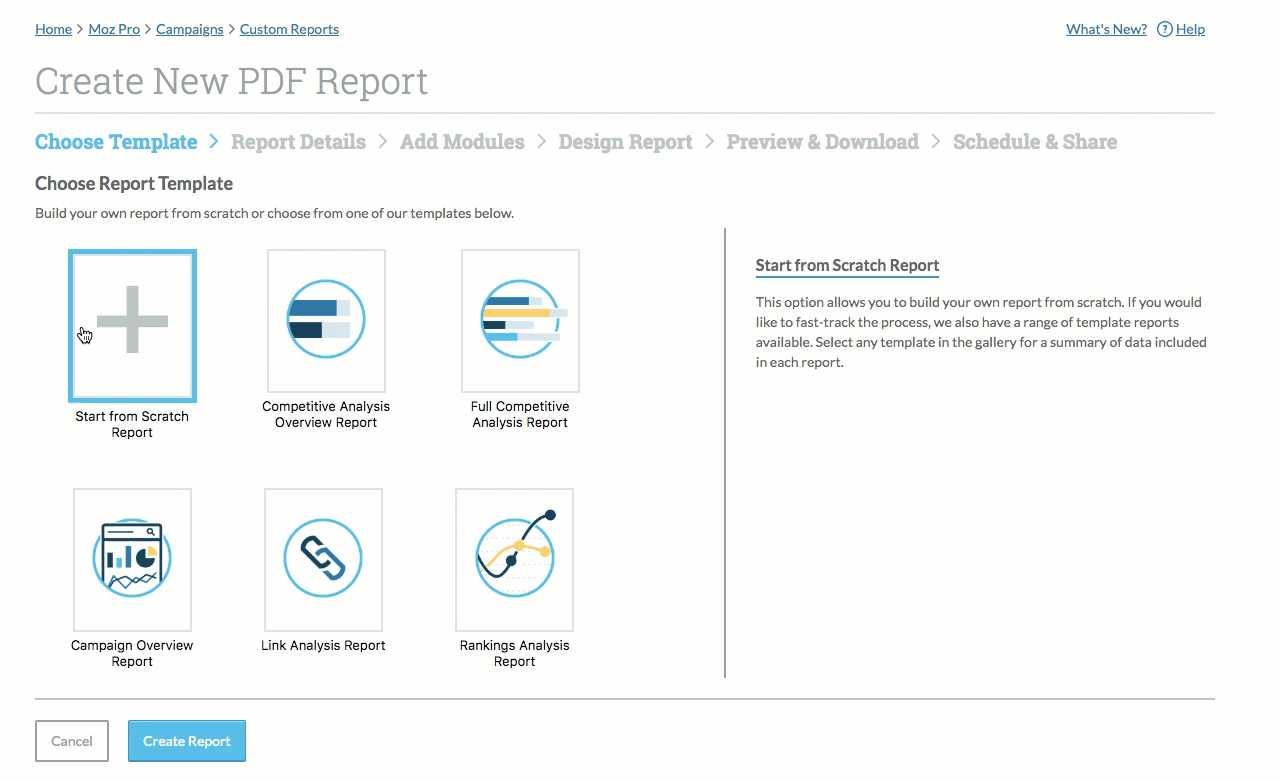 9 Reports Every SEO Needs: Introducing Custom Report Templates in Moz Pro