The Marketing Tactics People Love (And Love to Hate) [Exclusive Survey]
Posted by amandamilligan
I've always considered the most challenging part about digital marketing to be prioritizing.
There are hundreds of tactics available to you, and it can be overwhelming to determine which of them are most appropriate for your marketing goals and your target audience. (And we all know what happens when you try to do too much — you do it all poorly.)
It's critical to analyze the attitudes and behaviors of your current and potential clients/customers in order to best communicate with them in the methods they prefer.
But every now and then, it's also helpful to zoom out and see how different marketing tactics are faring in general.
That's why we surveyed 500+ Americans, asking them their thoughts on a variety of inbound and outbound marketing tactics.
Our objective was to better understand which tactics might be most effective on a broad scale and how people might feel about the various tactics they encounter.
Here are the biggest insights.
1. Very few channels "die"
Here's the thing: The marketing industry experiences a constant ebb and flow. A tactic like email marketing becomes popular, everyone does it, the space becomes diluted, and then other tactics start to gain traction as people seek out "quieter" channels.
That doesn't mean those tactics no longer work. It just means it becomes harder for your message to be seen because the volume of content out there for people to read is expansive. You have to work harder for it, have an intimate understanding of the information your audience wants, and test relentlessly.
The prime example of this revealed in this survey is that when asked what people think is the best way to attract their business, they picked snail mail (53.31%) over email (38.37%).
A couple of years ago, I'd never have thought to consider direct mail over email. It's costly and people tend to find mail cumbersome, sending a lot of it straight to the trash.
But over time, some have started to feel that way about email. It's hard to filter out all of the spam, discern between good pitches and bad ones, and just sort through what feels like an endless stream of messages. Direct mail has started to feel more like a novelty. In fact, 28% of our respondents said they've never clicked on the "Promotions" Gmail tab.
The takeaway: Don't let anyone tell you a channel is dead (except for maybe MySpace and other sites that are abandoned.) Take advantage of "quiet" channels but only if it makes sense for your audience. Focus on them, and the appropriate channel for you will become more obvious.
For example, some brands are seeing success endeavoring into the print magazine realm, a "quieter" channel that appeals to their specific audiences. (And how many times have we heard that print is dead?)
2. Don't seem intrusive
Privacy has certainly been a hot topic these days, but we shouldn't be focusing solely on GDPR and other regulations (that's where don't be intrusive comes in). It's not just about what's legal — it's also about what's off-putting. Unsurprisingly, people don't like to feel like they're being oddly approached or "followed" online (or anywhere).
That probably explains why our survey found that of the 78% of people who said they notice retargeted ads, 56% have negative feelings toward them. That's a pretty large amount of negativity for a tactic. In a separate question, 53% said they have ad blockers, choosing to bypass ads altogether.
Outbound marketing is about reaching out to people cold, but there's an art to this.
Traditional advertising achieves No. 2 on the sentiment scale, and my interpretation of this is that people are so used to seeing advertisements on television and hearing them on the radio that it no longer has an intrusive vibe.
Email, sponsored social media posts, and ads still can carry that feeling, though.
Does that mean you shouldn't utilize these tactics? Of course not. It does mean you have to be very strategy in applying them, though, or you'll turn off your audience almost immediately.
The takeaway: When utilizing outbound strategies, make sure the recipients understand why they're receiving the information and ensure what you're providing speaks to a want or need of theirs. Make the value you're providing immediately clear.
For example, I made a reservation at an Italian restaurant called Osteria Morini about a year ago. I received an email from them with the subject line "Fall Pasta Classes are Here!" Even though I didn't remember signing up for their updates, I opened the email because I knew exactly what they were trying to tell me and I was interested. I also just went back and checked; they've only emailed me once since the reservation. That's an extreme — I don't advocate you sending one email a year — but only send emails with real value.
3. Prioritize search
It shouldn't come as a huge surprise that search engine optimization won out as one of the strongest strategies out there.
Notice in the first graph in the article that appearing in search results was listed as the best way to earn respondents' business, and in the second graph, you'll see that reading the type of content you'd find on those results carries the best sentiment.
Not only is it effective, but it's also a common practice.
Using search engines to find answers is essentially an inherent online experience; nearly everyone does it, and if you're not showing up in the SERPs, you can be missing out on massive opportunities to increase your brand awareness, connect with potential clients/customers, and build authority in your space.
I'd say authority is a huge piece of why search is so important to people. When you rank highly, it's almost like the online equivalent of being published — "people" (other sites and Google) — vouch for you.
The authority piece is greater represented in the graph above. Reading customer reviews comes in right behind performing searches for how people learn more about a company or product, because people are constantly looking for authority and quality indicators in order to make the best decisions possible. (This is why E-A-T has been such a hot topic lately.)
The takeaway: SEO should always be a primary objective of your marketing team. If you're in a competitive space and finding it difficult to rank for your target keywords, focus on the long-tail for queries that are directly relevant to your business. That way, you're building authority with people who are already close to becoming customers/clients.
For example, when searching for daily planners, I noticed there are a few related keywords regarding daily planners that start as early as 5 a.m. The Better Dayplanner has an article that ranks for these types of keywords, meaning that people looking for something very specific will see them first. Sure, the search volume is low, but the traffic is as relevant as you can get.
Conclusion
After reading through this article (and reviewing the full inbound and outbound marketing survey), you can get a sense of which of your tactics may need modifying and which opportunities may be present. There's no universally right or wrong answer; it's highly dependent on the specifics of your brand and your target audience. But knowing general trends and preferences can help you shape your strategy so it's as effective as possible.
Sign up for The Moz Top 10, a semimonthly mailer updating you on the top ten hottest pieces of SEO news, tips, and rad links uncovered by the Moz team. Think of it as your exclusive digest of stuff you don't have time to hunt down but want to read!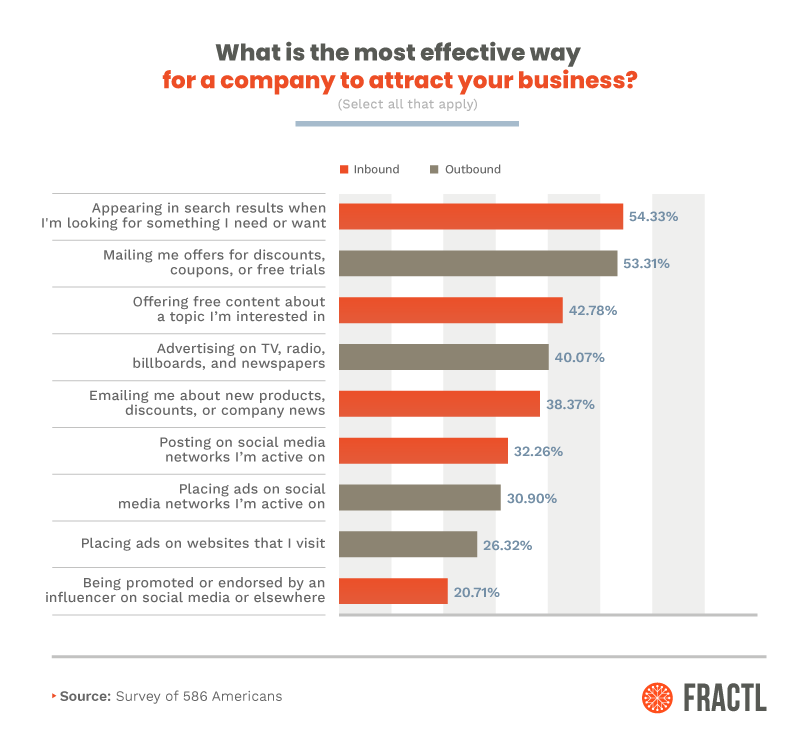 The Marketing Tactics People Love (And Love to Hate) [Exclusive Survey]